Big Wet One! 2014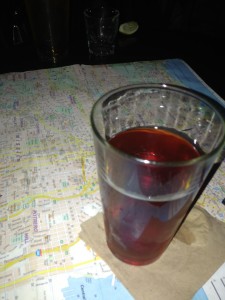 January 2nd through 5th in and about San Francisco
Thursday – 8pm – Traditional meet and greet at the Homestead (19th and Folsom) and we may ride to another location if the crowd is lame of there's a better event.
Friday – 7:30pm – Scenic City ride – Meet at the Orbit room 7:30- ride out at 8 for a tasty tour of San Francisco's famous city lights
Saturday – 11am – Day ride – Join the San francisco Scooter Girls for a ride to several locations around the city where we can warm our bones in front of cozy fireplaces. There will be several chances for food and drink along the way.
Saturday – 6pm – Night ride – SSSC Tike Ride. Meet at SSSC headquarters the Homestead, and get ready to ride across the bay bridge to Trader Vics where we'll enjoy the exotic sounds of Kitty Chow and Fisherman and you can sample some tasty cocktails and grab dinner if you're hungry. (If you're having dinner, you'll have to make your own reservations).
We may also do an alternate ride for those who do not wish to cross the bridge.
Sunday – 11am – RBSC Svanger Ride – Meet up at Zeitgeist at Valencia and Duboce for a recovery burger and Bloody Mary and pick up scavenger ride packet. 12 PM or so – Leave at your leisure for a scooter hunt around scenic SF. Gather your goods or pics and return to the San Francisco Motorcycle Club at 18th & Folsom to reveal your finds , warm up and relax! SFMC will be open at 3 PM
Thanks and I hope you've had a lovely Holiday. See you this weekend?